Make sure that the string passes from below the second shoelace eye starting from the top (2), and keep the lowest shoelace eye open (1).
Pass through the shoelace from the bottom of the shoelace clip to the top.
Return the shoelace from the top into the vertical direction of hole (1) , adjust the shoelace and make it close to the shoe.
Insert the tied shoelace tip between the left and right "shoelace clips", and lock it securely.
About the type of shoelaces
There are 3 types of shoelaces, flat, oval, and round, depending on the cross-sectional shape. "SORENAR Shoelace Clip" is optimized for flat and oval laces, and when these laces are pushed all the way in, they rarely come off the clip. If you use a round laces (thick one or one with small elasticity), these laces may come off the clip or the clip itself may be damaged when you push them in by force.
Q1. It was untied from the middle while being clipped.
The knot can be untied from inside by pulling it from the lace that is held by the clip. This can be improved by giving a bit more slack to the lace between the clip and the knot.
Q2. Can be attached to any type of shoes?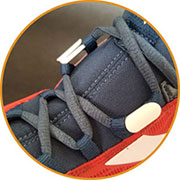 It can be attached to most shoes that have lace holes in the shoe body, including those for kids. However, in the case of the type of shoes shown in the photo, use the lace ring as a hole. 
Q3. Isn't the gel nail peeled off?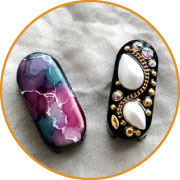 Due to the special processing of the surface of the plastic material, it is much stronger than the nails. Not only general manicure, but also gel nails have strong adhesive strength and are hard to peel off.
Q4. The shoelaces have been untied.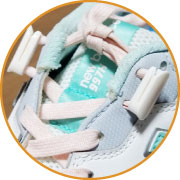 When the clip is properly attached to the shoe and the shoelace is pinched, the shoelace will not come untied. Please try attaching the clip to your shoe "use the lace holes vertically" as shown in the picture.